Servings: Two Wholes                   Time: 30 minutes
A nutritionally dense pizza filled with your favorite greens added with a spicy "kick" of seafood pepes sauce - shrimp and squids! You do not need to make a pizza dough from scratch. Instead, just simply use Roti Prata and that makes the cooking easy and quick! What's more, its base texture taste the same as a regular pizza!
With all these simple ingredients, consider this as your go-to recipe for a quick meal fix.
Ingredients
2 pieces of Plain Roti Prata 
1 piece of  Frozen Shrimp & Squid Pepes (thawed)
Frozen Broccoli (thawed)
Frozen Edamame bean pods (thawed)
Frozen Diced Potatoes (thawed)
Frozen Sliced Shiitake Mushroom  (thawed) 
Frozen Okra (thawed)
Frozen sliced chilli (optional)
*Portion out the vegetables you want to add as toppings before thawing.
Procedure:
Pre-heat the oven to 180°C
Remove thawed edamame beans from its pod.
Chop the broccoli into smaller florets; mushrooms into smaller bits; Okra into slices.
Remove Frozen Roti Prata from the freezer, and slightly thaw it before poking holes using a fork onto the roti prata. This is to prevent the prata from over-expanding during baking.
Portion out half of the pepes sauce from the banana leaf and spread onto the prata evenly. Do not spread the sauce to the edge of the prata.
Repeat step 6 and 7 with the remaining half of the pepes sauce.
Add the vegetable toppings on both of your pratas.
Place both pratas onto a baking sheet or aluminium foil and put into the oven.
Bake for 14minutes.
Your pizzas are ready to serve!

Step 7: Vegetable toppings on pizza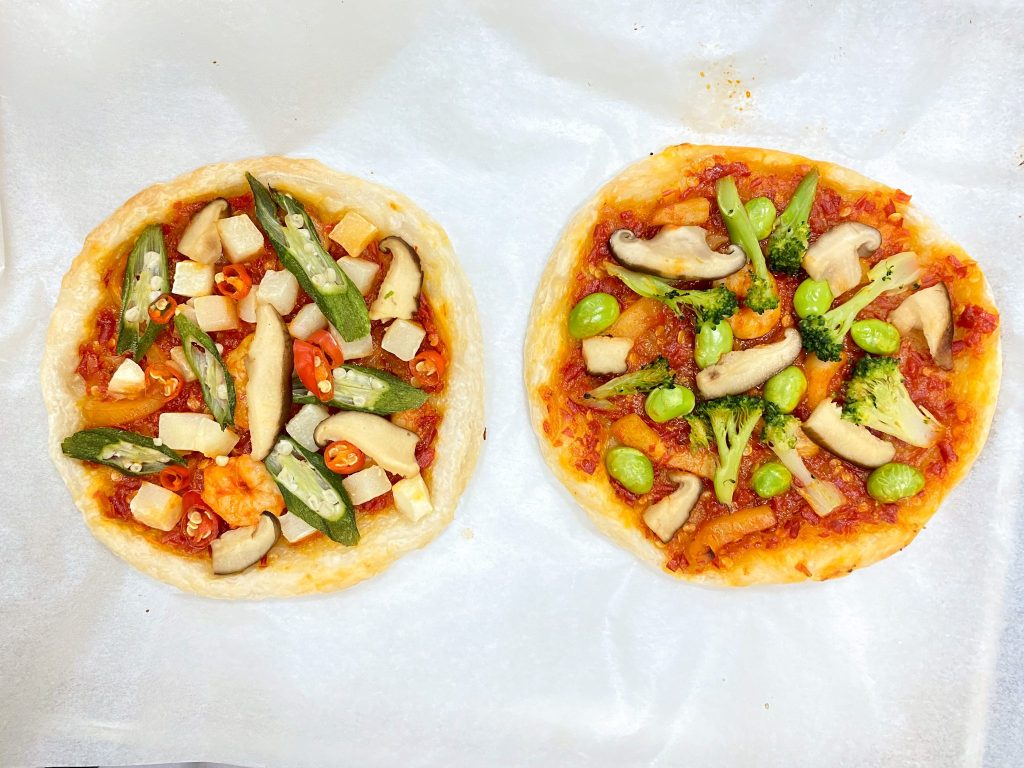 Step 10: Baked Pizzas out from the oven!