Servings: 5 puffs                 Time: 40 minutes
Ever thought of baking your own puff pastries but it seems tedious to make? Wrong! With Chinatown Roti Prata, you can make homemade puff pastries and it is really easy to do! What's more the prata texture taste the same as a regular flaky and crispy puff pastry! Start off with this recipe specially for spicy food lovers and those who are looking to make a healthier version of puff pastries. 
Ingredients
5 pieces of Plain Roti Prata 
1 piece of  Frozen Shrimp & Squid Pepes (thawed)
50g Frozen Broccoli (thawed)
50g Frozen Edamame bean pods (thawed)
50g Frozen Diced Potatoes (thawed)
50g Frozen Sliced Shiitake Mushroom  (thawed) 
50g Frozen Okra (thawed)
Procedure

Pre-heat the oven or airfryer to 180°C
Remove the edamame beans from its pod.
Chop the broccoli into smaller florets; chop okra into slices; and mushrooms into smaller bits.
Add all the chopped vegetables and Add 1/5 sauce from the pepes into a bowl.
Mix well until the stuffings are well distributed.
Remove Frozen Roti Prata from the freezer, and slightly thaw it before poking holes using a fork onto the roti prata. This is to prevent the prata from over-expanding during baking.
Add a spoonful of the stuffing mixture onto the center of the prata.
Quickly fold the prata together, ensuring that the edges of the prata are close and the stuffings do not fall out.
Once the edges are close, use a fork to press down on the edges to make line patterns and to ensure the puff is fully sealed.
Place the puffs onto a baking sheet or aluminium foil and put into the oven.
Bake for 14minutes.
Remove baked puffs from the oven or airfryer and place on a metal rack to cool slightly.
Your Baked Prata Puffs are ready to serve!

Step 5: Mixing the vegetables and pepes sauce
Step 7: Stuffing the mixture at the center of the prata.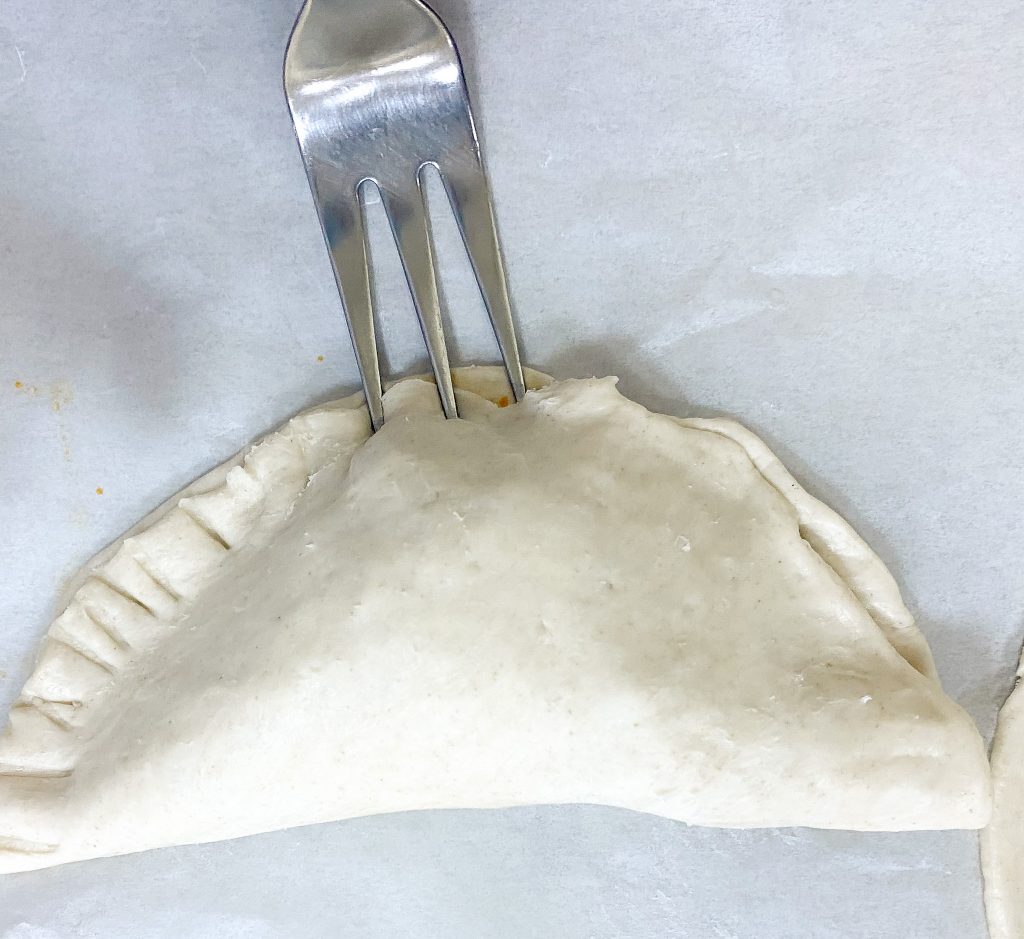 Step 9: Closing the edges with the fork